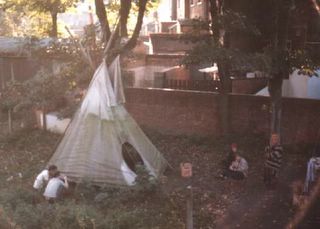 Part of the Transpontine mission is to document the various byways of music in South London. In this spirit, and courtesy of Graham Burnett's
'Anarcho-punk archives'
, we bring you this treasure from Forest Hill, circa 1985. The teepee belonged to Steve Ignorant of anarcho-punk legends
Crass
, and was in the garden of the house where members of fellow punk pacifists
Flux of Pink Indians
lived. Flux put out their first (and in my view best) LP, 'Strive to Survive Causing Least Suffering Possible' in 1982. I even had the
All the Arms we Need
' poster from this on my bedsit wall.
Derek Birkett of the band later formed
One Little Indian
records, putting out lots of cool stuff by Bjork, Alabama 3, Kitchens of Distinction and many others. In fact, Bjork was interviewed at the Forest Hill One Little Indian HQ for Sounds in 1987 (read it
here
), when she was still in the Sugarcubes.