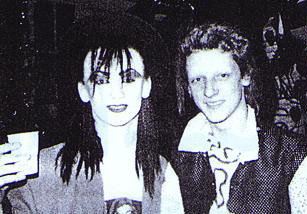 In an
earlier post
we mentioned David Bowie's Ziggy Stardust concert at Lewisham Odeon, and Boy George's appreciation of it. In his autobiography, Take it Like a Man, George expands 'I spent the whole day hanging around Lewisham, watching the crowd well up. Hundreds of Ziggy and Angie clones. Girls in fox-fur stoles and pillarbox hats, boys in glitter jackets. Bowie was an alien. It was the most exciting thing i'd ever seen. The crowd were screaming... I was screaming too". Later he hung out with other fans outside Bowie's house at
Haddon Hall, Beckenham
, and states that 'When we got bored we went looking for Brian Eno's house' (anyone know where that was?).
(Boy)
George O'Dowd's
parents met at the Duchess of Wellington, Woolwich, where his mum was working as a barmaid, and he was born in 1961 at Barnhurst Hospital, Bexley. His family lived at 29 Joan Crescent, Eltham, and later at the top of Shooters Hill by Oxleas Wood. He went to, and was expelled from, Eltham Green School. He became friends with Jeremy Healy, who lived in Kidbrooke and 'attended St Joseph's Academy in Blackheath where the Christian Brothers called him 'Satan's Imp' after he appeared at school with green hair.
Like many other soon-to-be punks, George was inspired not only by Bowie but what he terms the 'freaky disco' end of the soul scene in London. He went to soul nights at Greenwich Town Hall and The Black Prince in Bexleyheath where, in 1976, 'Some of the more full-on types were starting to wear plastic bags and trousers, feather earrings, safety pins on their clothes and in their ears'.
George and Jeremy Healy got jobs at Chingford Fruit Packers on the Woolwich Industrial Estate for three weeks but 'When they refused to let us leave early to see Patti Smith at the Roundhouse we all stormed out'. By the early 1980s Boy George was the world's favourite cross-dressing pop star with
Culture Club
while Jeremy Healy had had hit records with
Haysi Fantazee
. In the 1990s they both became successful DJs – I remember seeing Boy George (who is a big guy) towering above the crowd at Turnmills and Jeremy Healy in a gold skirt on the beach outisde
Cafe Mambo
in Ibiza. The latter is now in line to be the next
Mr Patsy Kensit
.
Picture of Boy George (left) and Jeremy Healy